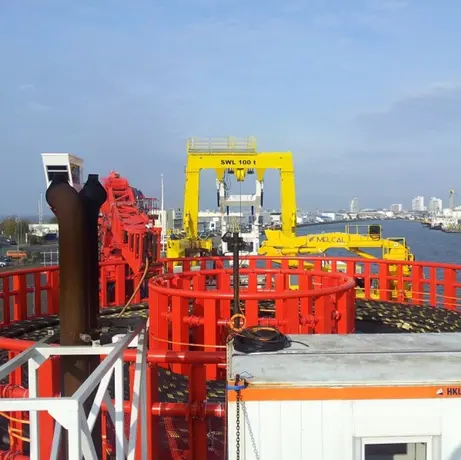 Case Study
Ship Control System for the MV Aura
Specialist deep sea cable laying vessel, the MV Aura, has been refurbished to enhance its ability to perform its demanding duties installing subsea energy cable for renewable energy projects at sea.
Meriaura Ltd, the owner of MV Aura, is a Finnish shipping company specialising in demanding cargo projects and transporting industrial bulk and raw materials. For its work in support of renewable energy projects MV Aura is part of its fleet of Cable laying vessels covering both deep water and shallow water cable laying and trenching capabilities. The ships' systems has been fitted with a dynamic positioning system and two additional bow thrusters, two new diesel engines, deck cranes and also accommodation block with capability of housing up to 36 people.
This modern and environmentally friendly vessel is designed to operate globally and can be utilised for various tasks including transport of demanding project cargo such as offshore wind farm structures. As its area of deployment includes the Baltic Sea area, the vessel is also capable of operating as an Icebreaker giving it year round capability to perform its duties. This wide scope of capability is further enhanced into an environmental protection role; MV Aura is also capable of operating in oil spill response activities. The main engines of the vessel can use environmentally friendly bio oil as fuel.
The scale of the refurbishment means that MV Aura has much greater demands for electricity than originally designed, so this area of the vessel was also significantly upgraded and Tapimec Oy (ComAp's official distributor in Finland) was pleased to be able to supply the system which powered it all.
Machinery Oy supplied three gen-sets in shipping containers, one switchboard container and one fuel container. In each gen-set container there is one 60L Cummins Marine diesel generator, a QSK60-D (with a power rating of 2095HP in Prime use) and one PI734G2 Stamford generator. Each container has a power output of 1800 kVA. In a normal situation, two gensets are running and the third is on stand-by. There is also a mode for load shedding.