Redefining Microgrids with Smart Controls
Meet InteliNeo, our entirely new ComAp product family for Hybrid Microgrids.
This new product family represents a great leap forward in smart energy management control solutions that redefines the implementation and ease of use of hybrid microgrids, enabling to manage any source of renewable power.
Watch our ComAp Product Reveal Replay
Single control ecosystem
InteliNeo is a master controller managing mains, gen-sets, renewables and BESS within one power system
Brand-agnostic power management
Up to 16 devices connected via Integrated Modbus Master and more via SunSpec
Native microgrid applications for on & off-grid systems
Pre-programmed applications make microgrid implementation much easier
The InteliNeo 6000 features the power behind our recently released InteliGen 1000 and will be the standard for renewable energy integration in larger, multi-power source sites. It can control the entire microgrid site in islanded or grid-connected configurations and supports all energy sources, including BESS and up to 64 gen-sets.
The controller features real-time monitoring capabilities to balance power supply and demand and make real-time decisions for optimal energy management. Its advanced algorithms and Modbus master ensure compatibility with multiple devices make it an outstanding solution for complex hybrid power generation applications.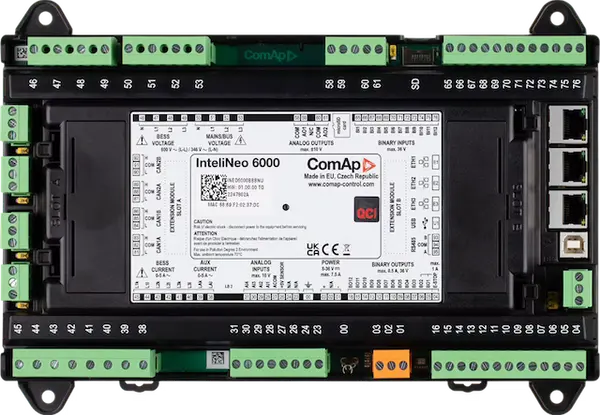 The InteliNeo 5500 is an all-in-one solution featuring a full-colour display and is designed to be a master controller in a smaller microgrid site. The InteliNeo 5500 still controls multiple sources of energy, in grid connected or islanded modes, but is more suited to less complex sites, with fewer energy sources.
The panel-mount design with a 5" colour TFT display is suitable for packagers and integrators who are looking to integrate clean and sustainable energy to existing power generation sites.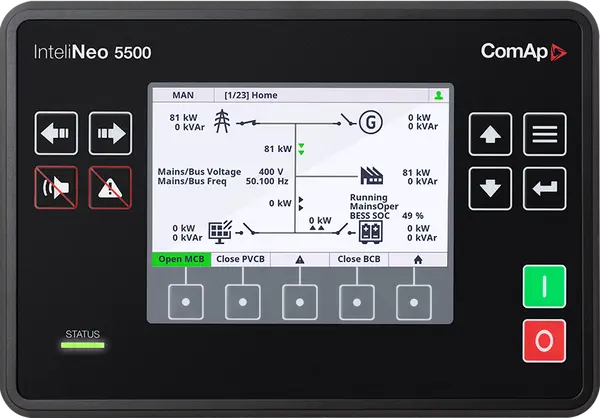 You might also be interested in