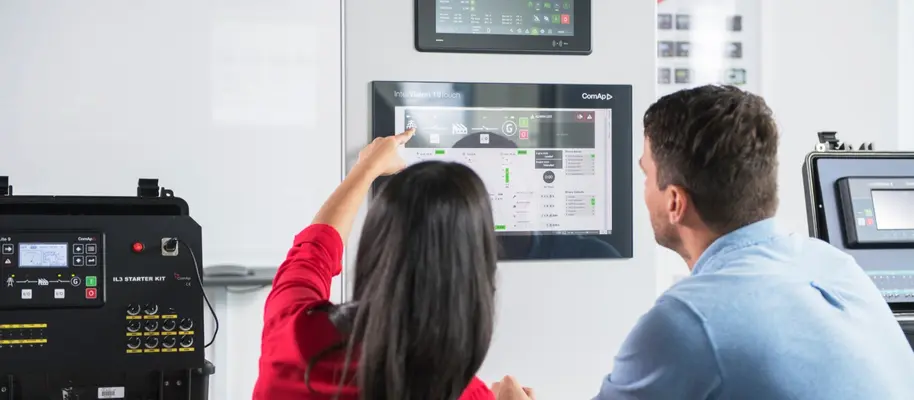 Virtual Hands-on Single & Paralleling Genset Controllers Training
This course is focused on InteliLite3, InteliLite4, InteliGen 200, InteliGen 500 controllers.
Participants are expected to have basic knowledge of gen-sets and power distribution systems. No previous knowledge of ComAp products is required. After finishing this training, you will know which ComAp product to choose for your application, where to get detailed information about using the product and how to configure the controller. Further to this, you will also gain knowledge on extending controller capabilities using ComAp controller accessories, including information about remote monitoring and control systems. Basics of complex sites using multiple gen-sets in an island or parallel to mains operation are also explained. The training contains several practical sessions where you will be working directly with ComAp controllers.
This course is held virtually using the Microsoft Teams platform and consists of following sections:
Prerecorded videos with theory
Live questions and answers
Hands-on section in breakout rooms

* Training runs fully on-line, no visa is required.
First day only (Tuesday)
| | |
| --- | --- |
| 09:30 - 10:00 | Introduction and organisational points from the Training team |
Applicable for the whole week (Tuesday – Friday)
| | |
| --- | --- |
| 09:30 - 10:00 | Introduction and organisational points from the Training team |
| 10:00 - 11:00 | Video, 40 minutes (for example Single Genset Controllers Overview) |
| 11:00 - 11:30 | Q&A |
| 11:30 - 12:30 | Lunch Break |
| 12:30 - 14:00 | Video, 6é minutes |
| 14:00 - 14:30 | Q&A |
| 14:30 - 16:00 | Hands-on part in MS Teams Breakout Rooms |