Overview

Related products

Resources
Overview

Related products

Resources
Plug-in module for functional extension of InteliLite and InteliGen controllers.
Extension module with 8 configurable binary terminals for inputs or outputs
Possibility to connect a current transformer for earth fault current measurement and protection
Frequently Asked Questions
How do I connect to my ComAp controller? What types of connections are supported?
ComAp offers a wide range of options to connect to your controller:
RS232 / RS485
USB - USB A<->B (usually a printer cable)
Internet connection - LAN, GPRS, 3G, 4G
Note that some connection types require you to use a communication module (plug-in eg a RS232 card) or communication bridge (external device eg Internet Bridge NT).

Each ComAp device usually allows for multiple ways of connection. The simplest one supported by the majority of our devices is the RS232 (serial) connection. For this, you need an RS232 cable (null modem) and if your PC is not equipped with an RS232 port you need a USB<->RS232 converter.
USB connections are very common. Almost all ComAp devices support connection using simple USB A<->B cable (printer cable) for easy configuration. Some devices can be powered from the USB port for programming to allow easy configuration right on your desk.
Other connection types: Internet connection (LAN, GPRS, 3G, 4G), Modbus RTU, Modbus TCP, SNMP, AirGate, Modem.
Note that some connection types require you to use a communication module (plug-in eg a RS232 card) or communication bridge (external device eg Internet Bridge NT). Not all types of connection are possible on each device. You can find all the details related to this topic in your device's Comprehensive guide or Communication guide.

Detailed information about connection to:
InteliLite NT, InteliATS NT, InteliCompact NT is available IL-NT, IA-NT, IC-NT Communication Guide (page 21)
InteliGen-NT, InteliSys-NT, InteliMains-NT is available in IGS-NT Communication Guide (page 19)
InteliLite is available in Global Guide InteliLite AMF25 Global Guide (page 126)


How do I change the controller firmware? Where can I get the latest firmware?
You can download the latest firmware package on the webpage of the device. You can easily navigate there through the 'Products' section or just use the Search function. If you cannot find the firmware on the website or if you require different than the offered version do not hesitate to contact our support team.
The firmware upgrade itself is easy to perform. You need the appropriate configuration software and a connection to the controller (preferably a direct connection). Prior to initiating the update process, we strongly recommend you to save a complete backup of your device.
It usually consists of several steps:
Create a controller back up.
Update the device firmware. It will contain default Configuration Archive and default Application.
Change the Application (SPtM, MiNT, MCB, MGCB, BTB, etc) to the required type (by programming appropriate default archive to the controller).
Use the Import Configuration Wizard to restore your previous configuration. In some cases manual interventions might be needed during this step.
Optional: Update the connected display firmware or device communication module firmware.
Should you be unsuccessful in programming the new version, the rollback procedure is to install previous firmware version and use your back up to restore the controller to its original state before the firmware upgrade was attempted.
How do I synchronize a gen-set to the mains? What AVRs do you support? What Speed Governonrs do you support?
The ComAp product portfolio includes controllers that can control voltage and speed and with those products our controllers are able to synchronise to the mains.
Synchronizing a gen-set to mains (or multiple gensets to each other) is a procedure which requires the following conditions to be met before you connect the two electrical systems together:
Matching voltage in all phases of both systems.
Matching frequency of both systems.
0° phase angle between both systems. (Or as close to 0° as possible.)
Matching sense of rotation of both systems.
The last condition is predetermined by wiring and needs to be checked prior to commissioning, the rest can be controlled by a ComAp device. In order to do so you need to interface the generator AVR (Automatic Voltage Regulator) and the engine Speed Governor. ComAp controllers designed for paralleling operations typically have outputs designed for this connection. Thanks to this we are able to control the generator voltage and the engine speed (and subsequently phase angle).
The procedure of configuring the speed and voltage regulation is described in the relevant documentation.
The same document also contains the list of supported AVRs and Speed Governors including the wiring and configuration setpoints.
Where can I get the list of Modbus registers, SNMP MIB table?
You can export the list of MODBUS communication objects directly from the controller.
In order to do this, you need to connect to the controller using the appropriate software (or use an offline archive).
LiteEdit: When you are connected to the controller or have its archive open in LiteEdit please click on: Controller -> Generate Cfg Image -> Generate Cfg Image (Modbus registers - used)...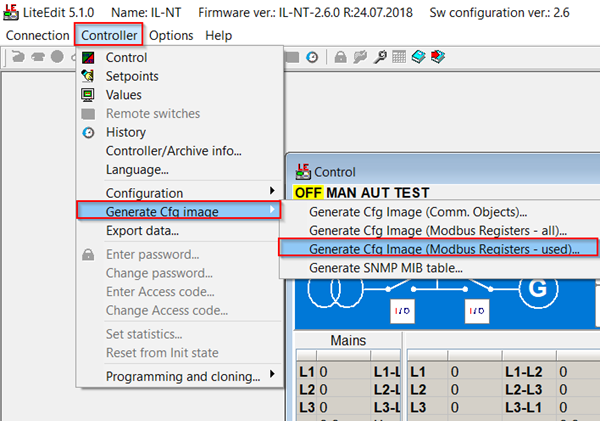 GenConfig: When you are connected to the controller or have its archive open in GenConfig please click on: File -> Generate Cfg Image -> Generate Cfg Image (Modbus registers - used)…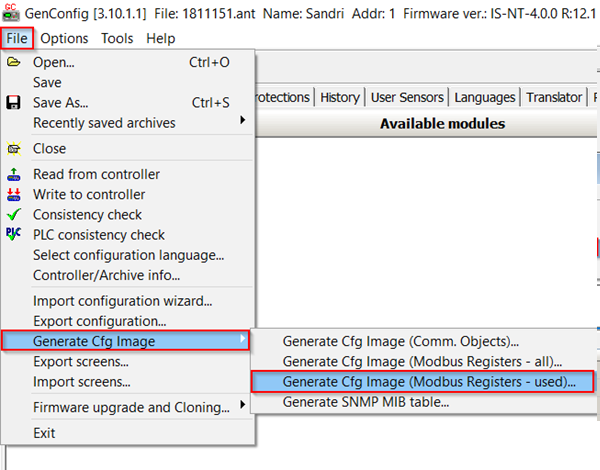 InteliConfig: When you are connected to the controller or have its archive open in InteliConfig please click on: Tools -> Generate Cfg image (MODBUS)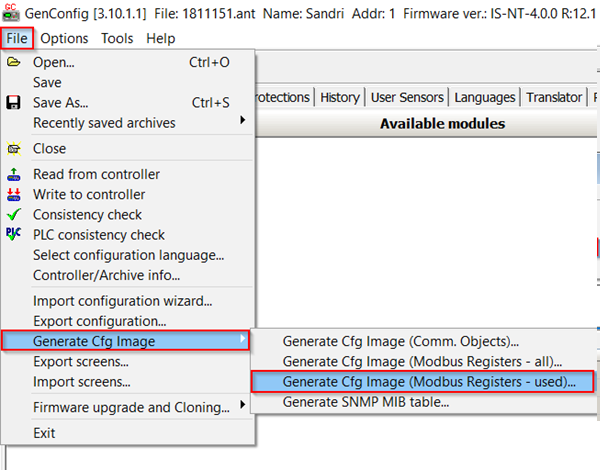 In order to get SNMP MIB table just replace the last part with "Generate SNMP MIB table…"
This way you will get an exact list of registers which is based on the actual controller configuration.
For further reference please look into the Communication Guide which describes all MODBUS related details.
Why does my extension module not work? Why can´t I communicate with an ECU on a CAN bus?
The vast majority of all issues related to CAN bus come from incorrect wiring.
Please ensure the following requirements are met:
Use of the correct cable – we recommend a shielded CAN bus cable.

Recommended data cables: BELDEN - for shorter distances: 3105A Paired - EIA Industrial RS-485 PLTC/CM (1x2 conductors); for longer distances: 3106A Paired - EIA Industrial RS-485 PLTC/CM (1x2+1 conductors)
The bus topology needs to be strictly linear, no branching, no 'star' topology

The CAN bus needs to be correctly terminated. A 120 Ohm resistor needs to be present on each end of the line. To verify correct termination, you can switch off the power to all connected modules and measure the resistance across the L and H terminals. The result should be 60 Ohm. Please note this only tells you if the correct amount of resistors is used, it will not give you information about their location.
Ensure the L and H terminals are not swapped anywhere along the length of the bus.
If you still cannot identify the problem, you can use a CAN to USB converter to analyse the traffic on the CAN bus to find the root cause of the issue.
Local support you can count on
Your operations depend on everything running smoothly. Our experts are here to make sure of that. We offer:
24-hour support on working days
Local contacts in 179 countries
Remote and in-person trainings and a range of support materials
Expert consultation, troubleshooting, and much more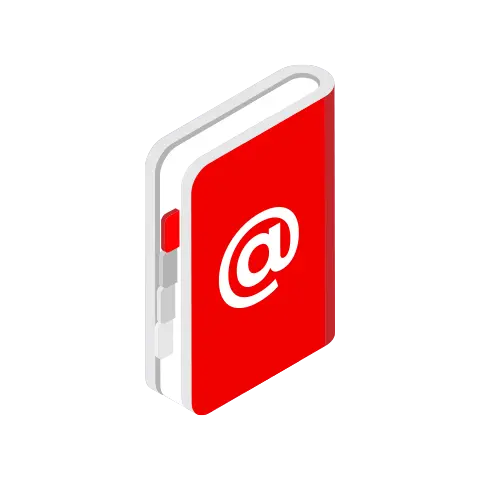 Contact your local ComAp representative
Didn't find what you were looking for? Contact us, we'll be happy to answer any questions you may have and help you with your business needs.
Our website uses cookies and similar technologies to provide you the best experience and to understand how you use our site.
You may either "Accept all" by which you agree with using functional, analytical and marketing cookies. By pressing "Revoke" only necessary cookies shall be allowed to enable the website and applications function correctly. To revoke your consent you can do it from footer menu in Change cookie preferences section.
You can find more information on the Cookie page and the Privacy section .