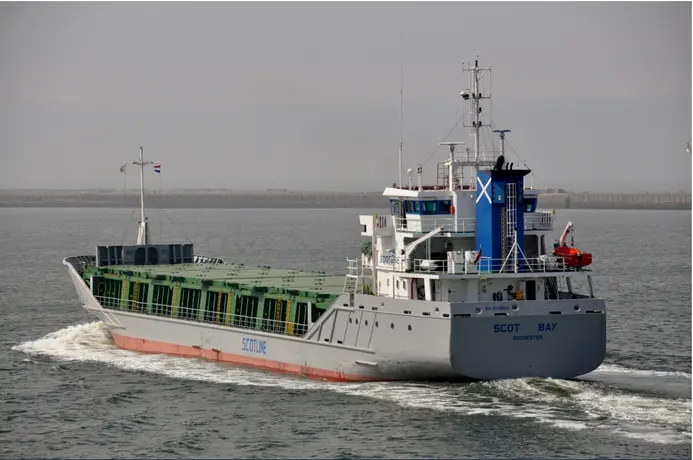 Case Study
Engine Control System for the MV Scot Bay
The MV Scot Bay is a general cargo ship owned by Scotline based out of Rochester, UK. The Scotline fleet consists of 12 ships which carry lumber between various countries in Europe and the UK. The fleet is managed by Intrada. MV Scot Bay was commissioned in 2001 along with 2 other sister ships in the Scotline fleet. The scope of this project was to replace the obsolete Wärtsilä Engine Control System (WECS 2000) on the single Wärtsilä 6L26 propulsion engine with a ComAp Main Engine Control Panel along with all required cables, extension modules, and interfaces between the AMS and other relevant third-party systems. The project was a collaboration between Blackwell Automation, Intrada, other local partners, and ComAp.
The original engine-mounted control system is removed and replaced by a Local Operating Panel which contains the main control unit, safety system, HMI, and push buttons. One or more Extension Panels are used to house the necessary modules which interface with engine sensors and actuators. Extension Modules communicate over CAN bus with the main control unit in the Local Operating Panel. The Main Engine Control Panel is designed to integrate with existing ship systems such as AMS, CPP, or others.
The Wärtsilä WECS 2000 consists of a central control unit and various data acquisition units all mounted directly to the main engine. These electronic components are exposed to heat and vibrations from the engine which can result in costly repairs and downtime. The ComAp Main Engine Control Panel solution provides a versatile refit option for original WECS 2000 systems, utilizing newer and more robust components, modernizing the functionality and appearance of the control system, and offering world-wide service and support.
This installation uses the ComAp Marine Control Panel Advanced ready-built enclosed solution - a panel that has InteliDrive DCU Marine, ID-RPU, and an InteliVision 8 Marine display preinstalled in a switchboard panel, along with all necessary wriring and accessories. This makes installation faster and easier.